I will not use a brand name directly and/or share a link here. I will call them as "Jimmys' friends" – a very useful term Hannah Gadsby created:
Because even a very negative feedback is beneficial in some cases, we all know how it works: debate generates buzz, buzz spreads content, content helps SEO, SEO strengthens accessibility, accessibility builds affinity, affinity converts… Literally, when you're swearing at a brand, you may be helping them sell more. So ignorance is bliss, don't help them.
But why am I against this "The best Jimmy can be" campaign, is it that evil? In fact it is not, it is a marketing attempt to ride the waves, it is a manly-men team's genius (?) to set it as an opportunity and differentiate themselves among an infinite number of manly-men brands. And in an environment where even girly-girl brands fall into hypocrisy traps, we cannot expect much from them.
My problem is not fakery, my problem is the cowardice. When you check Jimmys' Friend's Wikipedia page, here are the celebrities they sponsor:
"The company has had sponsorships in Major League Baseball and the England national rugby league team, along with the Rugby League Four Nations. Athletes such as Roger Federer, Tiger Woods, Shoaib Malik, Derek Jeter, Thierry Henry, Kenan Sofuoglu, Park Ji-Sung, Rahul Dravid, and Michael Clarke are sponsored by the company, as well as video gaming personality Dr DisRespect."
So there are no women in this list, or there are not any public figures who spoke to support women… It is a manly-men brand: created by men for men. Yet you check the reactions from some female celebrities, they seem to like the advert and they are proud to share the fact that they have been using their products since forever…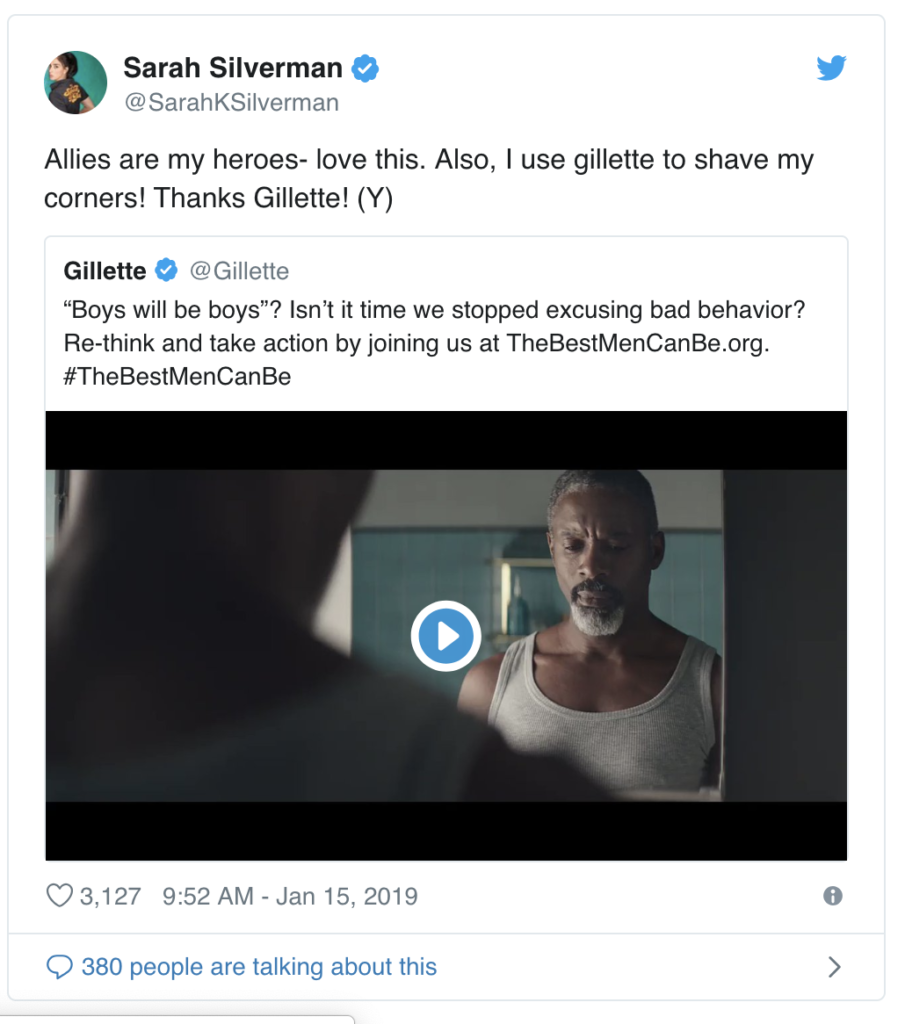 So this manly man brand happens to have products for women as we all know, since women have some unwanted hair as well. But women do not like to talk about these problems and their hair is not a daily problem, so men are a better target for them in regard to their consumption frequency and the nature of their demand.
Hair is good if you're a man, no matter where the hair is. Isn't it? Hair is masculine, hair is macho, hair is sexy… And there lies the 'authentic' role for such a brand to own.
Why don't you just challenge this assumption? Why don't you make "hair" something we share, not something that makes one gender superior than the other? Why are you keeping with your dangerous gender norms in your communication while you pretend to say something else? Here is what you're saying:
Because we believe in the best in men…. to say the right thing, to act the right way…. Some already are, in ways big and small…. but some is not enough. Because the boys watching today… will be the men of tomorrow.
How about the girls watching? How about women doing the right thing? If you want to be on the right side of the line drawn on the sand, then you need to convince more than Friends of Jimmys and Friend of Harvey… That is all I have to say. Otherwise you're not doing better than this: